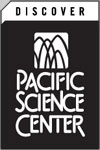 Pacific Science Center
Seattle, Washington
Visit their website

Pacific Science Center is committed to advancing the public's understanding of science and contributing to the development of a scientifically literate society. Science is a human endeavor that uses observation and experimentation to develop explanations of the natural world. Scientific knowledge and theories are grounded in and compatible with the best evidence of the time, are internally consistent, and demonstrate effectively the explanations of a wide variety of phenomena. Science is based on years of scientific experimentation and observation of the results which are critically reviewed by the scientific community. Pacific Science Center uses data and information based on such rigorous scientific evidence in its exhibits, demonstrations and science curricula.
Learn more about the Pacific Science Center. The streaming flash video is 11 minutes and 40 seconds long. Click the play button to start.