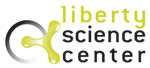 Liberty Science Center
Jersey City, New Jersey
Visit their website



Liberty Science Center: Where Wonders Never Cease
Liberty Science Center is the most visited museum in New Jersey and one of the most intensively used in the country. Since opening in 1993, we have introduced nearly nine million people to the wonder and awe of hands-on science discovery. Our distinctive experiences engage, educate and inspire and we support economic growth in the region by connecting with businesses, working with planning authorities, andhelping to prepare the workforce that industry needs.