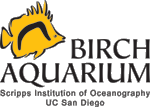 Birch Aquarium at Scripps
La Jolla, California
Visit their website



Birch Aquarium at Scripps is the public exploration center for world-renowned Scripps Institution of Oceanography at UC San Diego, located on the coast of La Jolla, California. Scripps Oceanography was founded in 1903 and has maintained a public aquarium and science museum for more than a century. In 1992, Birch Aquarium at Scripps re-opened in its present and larger facility. Birch Aquarium's public programs and interactive exhibits reveal the wonders of the ocean world and the cutting-edge research discoveries made by Scripps scientists.
Live from Gakkel Ridge
Monday, July 9: 6:30-8 p.m.
Birch Aquarium at Scripps
As part of an NSF-funded collaboration with Woods Hole Oceanographic Institution and science centers across the country to increase awareness of polar research and Earth's polar regions, join Donna Blackman, chair of the National Science Foundation's Ridge 2000 program, for an exciting excursion to the world's mid-ocean ridge volcanic system. Learn how these oceanic spreading centers shape our planet and support an amazing abundance of life in an otherwise inhospitable environment. For all programs in this series, visit: Perspectives on Ocean Science
About Birch Aquarium at Scripps
Approximately 370,000 people, including 50,000 school children, visit Birch Aquarium at Scripps annually. Visitors discover more than 60 habitats of Pacific marine life from the frigid waters of the Pacific Northwest to the tropics. A hands-on museum highlights climate, Earth, and ocean science research discoveries of Scripps scientists and their colleagues in interactive experiences. Major exhibits rotate every two years.
On May 19, 2007, a new exhibit will open called Feeling the Heat: The Climate Challenge. Visitors to this all-ages exhibition will learn what impacts climate change will have on Earth and the ocean; what they can do about global warming; and gain insight into the scientific facts behind climate change. For more information on this exhibit and associated public programs, please visit the website »
The mission of Birch Aquarium at Scripps is three-fold:
We provide ocean science education through creative exhibits, programs, and activities designed to help people use critical thinking, and to make science relevant to their daily lives.
We interpret Scripps Institution of Oceanography research, emphasizing the interdisciplinary nature of the science used to study Earth, and inspiring public support of scientific endeavors.
We promote ocean conservation through education and research, believing that with increased understanding of the ocean, people will respect and protect the marine environment.