Polar Mail
December 8, 2007
Question:
Dear Chris and Hugh,
Last weekend our teacher, Mrs. Laszlo, spoke with you at Colorado State University when you did a conference with some teachers on the phone. She came back all excited and showed eighty students your website. We have been following your photo journals in Antarctica. It was very fascinating. Since we are from Colorado, we can stand the cold :-), we think.... so lots of us want to go to Happy Camp.
We are a group of sixth and fifth grade students currently staying after school working on our Lego robotics research project. Lego robotics is a competition with computerized Lego robots that we program to do certain challenges. This years competition is a energy conservation theme. We our currently doing a research project on how our school uses energy. We found this website that surveys people on what their ecological footprint is. Our goal is to get as many people from around the world to take the survey and we thought it would be really cool to get someone from Antarctica!! The quiz takes about five minutes and here is the URL, . If you have the time to take this survey please think about how people in Antarctica use energy. The test gives two pieces of data.; how many planets would we need if everyone lived like you in Antarctica?____, and how many acres of land would you need?_____. If you could send us the results of the quiz. It would be awesome! http://www.earthday.net/Footprint/index.asp
If you don't have time to take this quiz we understand completely. Say hi to the penguins for us, and thanks for sharing your adventure with us.
Sincerely,
Annie Chronopoulos, Anne Bonhoure, Kaily Adair, Kate Monahan, and Emily Monald
Werner Elementary, Fort Collins, CO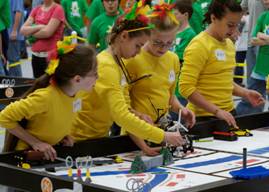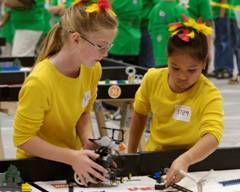 Answer:
Hi Annie, Anne, Kaily, Kate, and Emily,
Thanks for reading, and thanks to Mrs. Laszlo for showing you our site! We took the quiz you sent us to, and it says our ecological footprint here in Antarctica is 10 acres per person, quite a bit less than the U.S. average of 24 acres per person. But bear in mind that this quiz wasn't designed for people in Antarctica, and some of the questions didn't make much sense for us (For example, How far do we drive on a motorcycle each week?). McMurdo is built to be fairly energy efficient, but other factors affect our footprint, too—like the fact that all our food has to be flown here from at least 2,000 miles away!
In Antarctica, resources are much more limited than they are in the U.S. Food shipments are infrequent and fresh veggies are really rare. (We do have a greenhouse, and yesterday there was green lettuce in a big salad bowl at dinner - no tomatoes, though.) All the lights are fluorescent to save energy. The doors to the buildings are insulated, like the doors on a walk-in freezer at a restaurant. And our recycling program is really strong - everybody is expected to separate all their trash into recyclable, burnable, and waste piles. There's very little actual waste, but all of it gets shipped back to the northern world, not left here.
Thanks for writing, and good luck with your robotics competition. From the pictures, you really look like you know what you're doing. Here's hoping you continue in your studies, so that someday you could be robotics engineers working in the ocean, like some of the folks here at Woods Hole! (Read an article about some of our vehicles from Oceanus magazine: http://www.whoi.edu/oceanus/viewArticle.do?id=2462).
Best wishes,