Meet Hugh Powell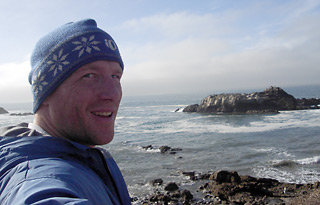 Hugh Powell
Science Writer
Hugh will be writing the field dispatches.
What is my role in the expedition?
I'm the science writer. I'll be spending my days getting the scientists to tell me what they're up to and why. Also, helping them in any way I can. Then I'll tell our readers as much of what I learn as will fit in eight photo captions per day.
Why do I do what I do?
As a science writer, I get to walk up to really smart, distinguished scientists and ask them anything I want about subjects they've spent their lives learning. In that way, I get to learn about whatever interests me, from some of the most knowledgeable people in the world. Pretty much every single day is fascinating. And every once in a while, I get to join the scientists in the field to do research in the back of beyond.
Where did I grow up?
I grew up all over the place - my father was a fighter pilot, so that makes me an "Air Force brat." By the time I was in seventh grade, I had lived in Florida, England, Ohio, Arizona, and New Mexico. Since then I've added places like Massachusetts, California, Oregon, Montana, Georgia, and Panama. But I've never been south of the equator before, and I've never been to the Arctic or Antarctic before.
What were my favorite and least favorite things about school?
My least favorite thing about school was getting picked on for wearing the wrong kind of sneakers (remember, this was the 80s). My favorite things were the hot, buttered rolls in the lunchroom, and playing soccer. I also liked learning Greek mythology in seventh grade, English literature in high school, and field ecology in college.
What am I most looking forward to about Antarctica?
Penguins. Hordes of 'em. Also, being in a place with so much incredible history of exploration, living in tents a long way from the base station, seeing Antarctica by helicopter, and living for a week on the side of a volcano. I'm pretty much looking forward to it all.