Tools & Technology: Sediment Multicore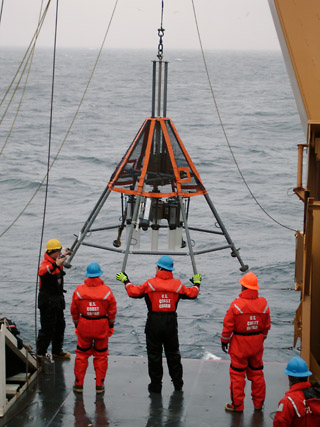 A sediment multicore does what the name suggests: It pushes into seafloor sediments and extracts many tubular samples of sediment at once. The multicore has a cone-shaped aluminum frame. In the middle are eight plastic tubes. When the frame settles on the floor, the center of the multicore slowly and evenly pushes the tubes into the sediment. The tubes are capped at the top and bottom and the multicore comes back to the surface with eight samples of sediment.
Some samples will be incubated on the ship so scientists can study how nutrients move through the sediment. Some will eventually be frozen and run through a CT scanner at a hospital, to see the burrows made by animals that live in the mud.
On this cruise, the multicore will be used every other day or so.