Related video


Highlights from video taken by Camper at the Gakkel Ridge
Video (0:40)

What did the expedition to the Gakkel Ridge find? Stay tuned.
This research cruise to the Gakkel Ridge had two major objectives:
to develop new technologies and vehicles to explore the deep sea in ice-covered oceans.
to use those new vehicles, along with more standard oceanographic instruments, to search for hydrothermal vents and life forms around them in the Arctic Ocean.
The first part of the mission was funded by a grant from the National Aeronautics and Space Administration (NASA), with an eye toward someday sending robotic vehicles to other planetary bodies (such as Jupiter's moon, Europa) to search for extraterrestrial life. Like Earth, Europa has an ice-covered ocean and volcanic activity. On our planet, those ingredients have allowed life to flourish on the seafloor, so why not on Europa? The Arctic Ocean offered a real-life ice-covered testing ground for the new vehicles.
Until the day when NASA launches a mission to Europa or another planetary body suspected of harboring life, why not use the new technology to search for hydrothermal vents and vent life on the bottom of the Arctic Ocean, whose dense ice pack has blocked scientists' ability to explore it? The Arctic Ocean became enclosed and separated from other oceans about 65 million years ago. So a key question was: What sort of life forms exist at the bottom of the Arctic Ocean?
As the icebreaker Oden heads for port, researchers aboard are compiling the data they have collected over the past five weeks. Polar Discovery's final photo essay on this research cruise will be published tomorrow.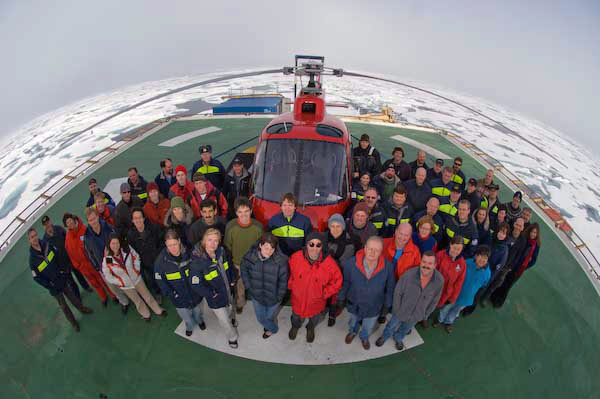 The crew and science party of the Summer 2007 expedition to the Gakkel Ridge aboard the icebreaker Oden.