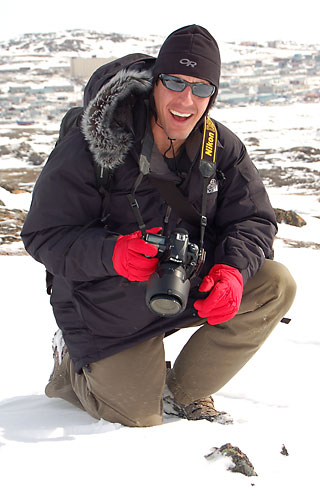 Chris Linder
Research Associate
Woods Hole Oceanographic Institution
Chris is the Polar Discovery project manager. He will be photographing the field work and coordinating the live calls to the museums. Chris is a nationally published, exhibiting photographer and author. For information visit his website.
What is my role in the expedition?
In addition to taking thousands of photos, I am the principal investigator for Live from the Poles / Polar Discovery. That means I keep everything coordinated and on schedule.
Why do I do what I do?
Science fieldwork, especially polar science fieldwork, is fun and exciting, but not everyone knows that. It's my job to show, using photos, how researchers get to these remote places and conduct their experiments. Essentially, I tell their stories.
Where did I grow up?
I grew up about as far from the ocean as you can get, in southeastern Wisconsin. When I was young I developed a fascination for the ocean and studied oceanography in college and graduate school.
What were my favorite and least favorite things about school?
I was a geeky kid in high school and still am. I love learning new things and wish I could stay in school my whole life.