Meet Andrea Burke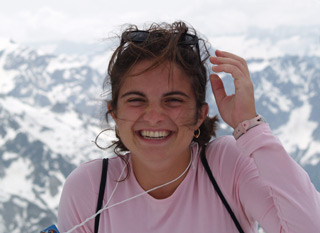 Andrea Burke
Graduate Student
Geology and Geophysics Department Woods Hole Oceanographic Institution
Role in the expedition?
I will be helping out with the field work: digging holes, collecting rock samples, and mapping the area.
Why I do what I do?
At Williams College, I decided to major in geology after taking a few classes and doing field research in the US Virgin Islands mapping a coral reef. I really enjoyed doing fieldwork and learning about environment, and the professors in the department were truly superb. I have always loved spending time outdoors and traveling, and field work allows me to do both!
Where did I grow up? What schools did I go to?
I grew up in East Hartford, Connecticut and I went to East Hartford High School. After high school I went to Williams College, which is located in northwestern Massachusetts in the Berkshires. Last year I began graduate work with the MIT/WHOI Joint Program in Oceanography. I am thrilled to be living in the Boston area because I love the Red Sox!
What were my favorite and least favorite things about school?
My favorite things about school were my math and science classes. I was very lucky to have such wonderful teachers in those subjects growing up and I don't think I could be where I am today without them. My least favorite thing about school was writing papers...and it still is!