The Arctic: Exploration Timeline

Arctic Timeline: Ancient Times from 330 BC to 1000 AD
Arctic Timeline from 1594-1610
Arctic Timeline from 1725-1779
Arctic Timeline from 1776-1779
Arctic Timeline from 1819-1831
Arctic Timeline from 1845-1873
Arctic Timeline 1878
Arctic Timeline from 1879-1882
Arctic Timeline from 1882-1884
Arctic Timeline from 1886-1909
Arctic Timeline from 1893-1895
Arctic Timeline from 1903-1905
Arctic Timeline from 1910-1915
Arctic Timeline from 1918-1925
Arctic Timeline 1930
Arctic Timeline 1958
Arctic Timeline from 1970-1990s
Arctic Timeline from 1993-1998
Arctic Timeline from 2007-2008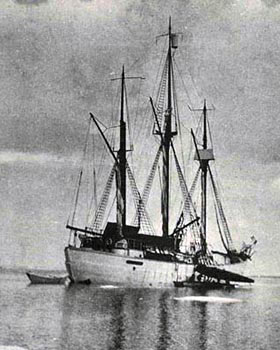 The
Maud
at sea. © Public domain.
1918-1925
Having conquered the Northwest Passage and the South Pole, Norwegian explorer Roald Amundsen sets his sights on the North Pole. He chooses to follow Fridtjof Nansen's idea of freezing a ship into the ice and floating to the Pole. However, the Fram is no longer seaworthy, so he builds a new wooden vessel, the Maud, similar to the Fram and with an egg-shaped bottom to lift under ice pressure and avoid being crushed.

The Maud departs from Oslo, Norway in 1918, and sets off through the Northeast Passage with the intention of being frozen into the pack ice north of the Bering Strait. However, the pack ice forms much earlier that year, and by September, the Maud and her ten passengers are frozen in for the winter. During the winter, Amundsen breaks his arm and is mauled by a bear. Finally, in August, the ice releases its grip on the Maud and the expedition continues eastward. One month later, the Maud is stopped by ice again, and frozen in for a second winter 500 miles short of Bering Strait. After another winter in the ice, they get through the Northeast Passage in 1920.
« Previous Page | Next Page »