The Arctic: Exploration Timeline

Arctic Timeline: Ancient Times from 330 BC to 1000 AD
Arctic Timeline from 1594-1610
Arctic Timeline from 1725-1779
Arctic Timeline from 1776-1779
Arctic Timeline from 1819-1831
Arctic Timeline from 1845-1873
Arctic Timeline 1878
Arctic Timeline from 1879-1882
Arctic Timeline from 1882-1884
Arctic Timeline from 1886-1909
Arctic Timeline from 1893-1895
Arctic Timeline from 1903-1905
Arctic Timeline from 1910-1915
Arctic Timeline from 1918-1925
Arctic Timeline 1930
Arctic Timeline 1958
Arctic Timeline from 1970-1990s
Arctic Timeline from 1993-1998
Arctic Timeline from 2007-2008
Arctic Timeline: Ancient Times from 330 BC to 1000 AD
Arctic Timeline from 1594-1610
Arctic Timeline from 1725-1779
Arctic Timeline from 1776-1779
Arctic Timeline from 1819-1831
Arctic Timeline from 1845-1873
Arctic Timeline 1878
Arctic Timeline from 1879-1882
Arctic Timeline from 1882-1884
Arctic Timeline from 1886-1909
Arctic Timeline from 1893-1895
Arctic Timeline from 1903-1905
Arctic Timeline from 1910-1915
Arctic Timeline from 1918-1925
Arctic Timeline 1930
Arctic Timeline 1958
Arctic Timeline from 1970-1990s
Arctic Timeline from 1993-1998
Arctic Timeline from 2007-2008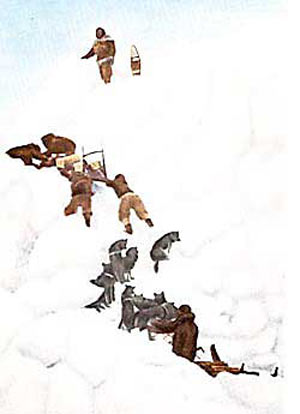 One of the hardest things the team had to do was get over the 20 to 50 foot high ice barriers. Source:
www.matthewhenson.com
.
1886-1909
The Peary Arctic Club, led by US Navy engineer Robert Peary, organizes 8 expeditions to the Arctic. In the early years, he crosses the Greenland ice cap, and in 1898-1902 makes his first unsuccessful attempt to reach the North Pole, losing a few toes to frostbite. Finally, in 1908-1909, Peary reports that he has reached the North Pole with his friend, Matthew Henson and four native people. However, there are still questions as to whether Peary did indeed reach the North Pole, or whether he exaggerated the distances he traveled.
« Previous Page | Next Page »