The Arctic: Exploration Timeline

Arctic Timeline: Ancient Times from 330 BC to 1000 AD
Arctic Timeline from 1594-1610
Arctic Timeline from 1725-1779
Arctic Timeline from 1776-1779
Arctic Timeline from 1819-1831
Arctic Timeline from 1845-1873
Arctic Timeline 1878
Arctic Timeline from 1879-1882
Arctic Timeline from 1882-1884
Arctic Timeline from 1886-1909
Arctic Timeline from 1893-1895
Arctic Timeline from 1903-1905
Arctic Timeline from 1910-1915
Arctic Timeline from 1918-1925
Arctic Timeline 1930
Arctic Timeline 1958
Arctic Timeline from 1970-1990s
Arctic Timeline from 1993-1998
Arctic Timeline from 2007-2008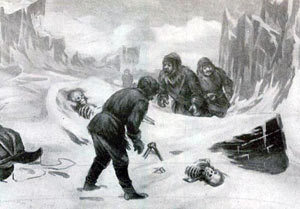 The discovery of Franklin's party. Source: Morris, Charles:
Finding the North Pole
by Cook and Peary, W. E. Scull, 1909, 288.
1845-1873
Sir John Franklin's expedition aboard Erebus and Terror sails in search of the Northwest Passage. 129 men set off with hopes of finding the passage—but none would return.
Over the next several years, many land and sea expeditions search for Franklin. In 1853, Dr. John Rae, sent by the Hudon's Bay Company to complete a coastal survey discovers relics of the Franklin expedition in the possession of the Eskimos. In 1959, an expedition led by Francis Leopold McClintock finds a cairn left by the Franklin expedition that told of the death of Franklin and of 24 others, and of abandoning the ship.
Attempts to locate survivors of the Franklin expedition continued in the 1860's and 1870's led by American Charles Hall, who died on an expedition under mysterious circumstances in November 1871.
« Previous Page | Next Page »